Based on my recent travels, and chats with at least 5 dozen booksellers, here's What Booksellers Are Reading Now, the complete list. If you're interested in any of these books, I hope you'll go first to Indiebound, so you can figure out where to buy locally.
Fiction:
A MARKER TO MEASURE DRIFT, Alexander Maksik
THE HUSBAND'S SECRET, Liane Moriarty
THE LANGUAGE OF FLOWERS, Vanessa Diffenbaugh
MISS MONTREAL, Howard Shrier
THE BURGESS BOYS, Elizabeth Strout
THE LIGHT BETWEEN OCEANS, M.L. Stedman
BREWSTER, Mark Slouka
LETTERS FROM SKYE, Jessica Brockmole
GONE GIRL, by Gillian Flynn
HOW THE LIGHT GETS IN, Louise Penny
THE GIRL WHO SANG TO THE BUFFALO, Kent Nerburn
SOMEONE, Alice McDermott
THE ROUND HOUSE, Louise Erdrich
BEL CANTO, Ann Patchett
THE GIRL YOU LEFT BEHIND, Jojo Moyes
DEFENDING JACOB, William Landay
THE LAST ORIGINAL WIFE, Dorothea Benton Frank
RECONSTRUCTING AMELIA, Kimberly McCreight
TRAVELING SPRINKLER, Nicholson Baker
JUDE THE OBSCURE, Thomas Hardy
ME BEFORE YOU, Jojo Moyes
THE DINNER, Herman Koch
THE BELL JAR, Sylvia Plath
MIDDLEMARCH, George Eliot
A ROOM WITH A VIEW, E.M. Forster
THE GREAT GATSBY, F. Scott Fitzgerald
LEAVING HAVEN, Kathleen McCleary

Fantasy:
SERPENT OF VENICE, Christopher Moore
THE BONE SEASON, Samantha Shannon
EMPEROR OF THORNS, Mark Lawrence
THE MORTAL INSTRUMENTS, Cassandra Clare
NEVERWHERE, Neil Gaiman
WOOL, Hugh Howey
THE RETURN OF THE KING, J.R.R. Tolkien
Historical fiction:
THE GOOD LORD BIRD, James McBride
BURIAL RITES, Hannah Kent
THE ABSOLUTIST, John Boyne
SON, Philipp Meyer
Non-fiction:
LIVING THE QUAKER WAY, Philip Gulley
THE MUSHROOM HUNTERS, Langdon Cook
A RIP IN HEAVEN, by Jeanine Cummins
THE HARE WITH AMBER EYES, Edmund de Waal
THE GUNS OF AUGUST, Barbara Tuchman
SAVAGE CONTINENT, Keith Lowe
UNDAUNTED COURAGE, Stephen Ambrose
WILSON, A. Scott Berg
LOVE, LIFE AND ELEPHANTS, Dame Daphne Sheldrick
A FORT OF NINE TOWERS, Qais Akbar Omar
Young Adult:
ELEANOR AND PARK, Rainbow Rowell
FANGIRL, Rainbow Rowell
COUNTING BY 7s, Holly Goldberg Sloan
THE TESTING, Joelle Charbonneau
FALLING KINGDOMS, Morgan Rhodes
WEDNESDAY WARS, Gary D. Schmidt
THE FAULT IN OUR STARS, John Green
THE ABSOLUTELY TRUE DIARY OF A PART-TIME INDIAN, Sherman Alexie
Childrens':
THE DAY THE CRAYONS QUIT
THE MAN WITH THE VIOLIN
RUFUS GOES TO SCHOOL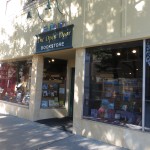 Day 6 and 7, Indie Book Store Road trip. My six-year-old brown Subaru is now filled with stuff I've accumulated on the road (at least half of it is Stacy's!). My day began in downtown Schenectady at The Open Door, a lovely little bookstore tucked into a pedestrian alley in Schenectady's historic district. Amy, who's worked at the store for more than 15 years, welcomed me and talked YA fiction, her passion. She likes YA because, "if the ending is bittersweet, it's always on the sweet end of bitter." She loved Rainbow Rowell's Eleanor and Park and The Testing, by Joelle Charbonneau. She also recommended a great little coffee house down the street, The Happy Cappucino (they had me at "happy").
From there I drove on to The Book House of Stuyvesant Plaza, where Khai sold me on The Language of Flowers in about 30 seconds (she's a very good bookseller). The Book House is a big, welcoming store in a mall with an amazing bread shop just a few doors down. Fresh-baked bread and books is a pretty good combo, too.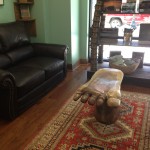 Northshire Books in Saratoga Springs is only two months old, but seems like it's been an anchor of the community forever (it's a sister store to Northshire Books in Manchester, VT, which opened in 1976 and is still owned by the same family). It's spacious but still cozy, with cool furnishings like this barefoot coffee table. Nancy, the manager, LOVED Mark Slouka's Brewster, which I heard about at every bookstore in NY, I think. Bookseller Chris recommends Serpent of Venice and was very excited about Christopher Moore's upcoming visit to the store. The other booksellers I shanghaied, Amelia and Jessica, suggested Burial Rites by Hannah Kent (Amelia's pick) and The Bone Season (Jessica's). Jessica and Amelia are such huge Samantha Shannon fans ("Harry Potter for adults") that they're launching a fan site, The Seven Dials.
I drove straight from Northshire to the other Northshire, in Vermont. Driving on country roads in the northeast in late September is about as good as a road trip gets. I stopped at a farm stand and bought Honeycrisp apples, a super sharp local cheddar cheese, home made biscuits, and ate lunch under a big old tree in a field next to the farm. Northshire in Manchester is a bookstore that wanders all over several levels and in and out of a cafe and is filled with great things like a wooden bench carved out of burled wood near the front door, and a selection of warm wool socks. (It was the only bookstore of the 23 I visited that carried socks. I love that. It's hard to enjoy a good book if your feet are cold, you know?)
I talked to the three Sarahs there, Sarah W., who is reading The Burgess Boys, and also M.L. Stedman's The Light Between Oceans, which I read and loved this summer. Sarah D. just finished Serpent of Venice and Emperor of Thorns. Sarah K. loved How the Light Gets In, by Louise Penny (love the title, from a Leonard Cohen song) and Howard Shrier's Miss Montreal.
From Vermont I drove through fading light to get down to Connecticut, where I spent a night with my mother-in-law. And then on Friday, Day SEVEN on the road, I made my last stop of the trip, at Harleysville Books in PA. I spent at least an hour talking books, the book business, authors, publishing, community bookstores, and more with owner Shelley. She had just finished (ta da!) an advance copy of Leaving Haven, so we talked about that for a while, too. I'm going to do an online book club with Harleysville Books in November and can't wait. She's also reading Jeanine Cummins' A Rip in Heaven, so I bought that as my last purchase of the trip.
I loved the road trip. I loved meeting all the owners and booksellers and buyers and managers who love what they do, love books, and are committed to keeping community bookstores alive. I'm already plotting another one—maybe North Carolina?
Indie Bookstore Road Trip by the numbers:
Miles covered: 1,397
States: 7 (Virginia, Maryland, Pennsylvania, New Jersey, New York, Connecticut, and Vermont)
Bookstores visited: 23
Books bought: 9
Other items purchased along the way: 1 rock salt grinder, 4 damask napkins, 1 purple crocheted mini-dress, 1 pair of purple suede boots (size 7), 1 wrought iron toilet paper stand, 1 small bouquet of glass daisies with wire stems, 2 quarts of maple syrup, 1 bag of apples, 5 bars of dark chocolate, 2 brownies, 1 liter of Hudson Baby Bourbon Whiskey. All in all, a fantastic trip!
Day five of the Indie Book Store Road Trip was memorable for several reasons. For one, I was wandering all over the Hudson River Valley in upstate New York on a September day so crisp and clear you could bite into it. For two, I kept meeting booksellers with the best names I have ever heard in my life. For three, I had bacon with breakfast (and waffles) AND bacon with lunch (BLT), as well as the best dark chocolate almond bark I've ever tasted. This is all my definition of a very good day.
I started out at The Book Cove in Pawling, which sells antiques as well as books and is the kind of place you could happily spend an entire day perusing everything.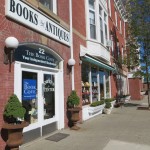 Tara, the manager, just finished reading Wilson, by A. Scott Berg, which is selling like crazy for them while Louise, who's been a bookseller there for 16 years, recommends Love, Life, and Elephants, by Dame Daphne Sheldrick. It's a terrific true story, and Dame Daphne managed to dress in lovely frocks and pearls even in the midst of raising elephants in Africa . Check it out.
Millerton, NY, was next. The bookseller at Oblong Books & Music there is named Castle. Really. Her parents both dreamed that one day they would have a daughter named Castle, and here she is. She's a poet, writer, and graduate student who just glows when she talks about books and writing. And I'd tell you what she's reading but I lost my little notepad where I was writing everything down. But go see Castle for yourself. She's a delight.
In Rhinebeck, I talked to a beautiful bookseller at the OTHER Oblong Books & Music. Of course I can't remember her name because it wasn't "Castle" (and I lost my little notepad). But, oh, was she interesting to talk to. She suggested a book with a title I love so much I may have to get it on that basis alone, St. Lucy's Home for Girls Raised by Wolves, by Karen Russell. She's also a writer. And she's lovely.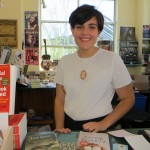 The last stop of the day was Woodstock. Is it too cliche to say I saw more tie dyed t-shirts wandering around Woodstock than I've ever seen in one place before? But it's true. The bookseller at the wonderful Golden Notebook is named Desiree O'Clare, which is such a great name I may have to use it in a novel one day. Desiree recently read and loved Where'd You Go, Bernadette? by Maria Semple, and some other titles I wish I could remember.
Her assistant Dante, a local high school student, set out months ago to read everything John Green has ever written and accomplished his mission last week when he finished Will Grayson, Will Grayson. Go to Woodstock sometime and say hi.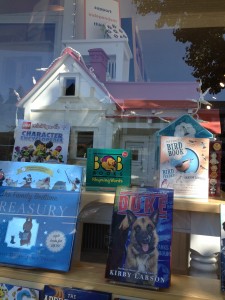 Things got gritty today, as in "artisanal grits," which was one of the items on the menu in the very artisanal town of Ridgefield, CT, the last stop on today's indie bookstore road trip. (Question of the day: Is "artisanal grits" an oxymoron?) Don't get me wrong; Ridgefield is a beautiful, welcoming town, with one of the sweetest bookstores you'll ever find, Books on the Common. It's got a dollhouse in the front window, long aisles with softly burnished hardwood floors, and nooks and crannies with armchairs that just beg you to sit down and read. Carol, one of the booksellers, raved about Brewster, by Mark Slouka, and Wednesday Wars, a middle-grade novel by Gary Schmidt.
Long before Ridgefield, though, the day started bright and early at Diane's Books in Greenwich, CT. I hit four bookstores in three states today—quite a feat since Thelma (or is it Louise?) left yesterday so I was doing all the driving and navigating myself. (My friend Stacy had to go back to Va. to work and be a mom. I was so lucky to have her with me for three days!) Each bookseller at Diane's has an area of expertise, and I talked to Maria and Allyson, the children's book experts.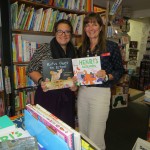 They raved about The Day the Crayons Quit, so I bought it. How can you not love a book that includes a letter from a red crayon complaining that it's tired of being overused in coloring all those fire engines? Other recommendations from Maria and Allyson for the youngest book lovers in your life: The Man with the Violin and Rufus Goes to School. Diane's has this giant dog outside that reminded me of Clifford: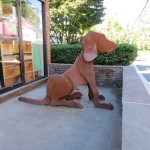 From Diane's, I drove over the Tappan Zee bridge to Books & Greetings in Northvale, NJ. Kenny, one of the booksellers there, has been in the business for 40 years. He reads EVERYTHING—Vince Flynn, Brad Thor, Gillian Flynn, Nicholas Sparks. I loved Kenny. He wanted to buy me a cup of coffee and some water and a muffin to be sure I'd be okay on the road for the rest of the day. The trip to Northvale was well worth it. Great store.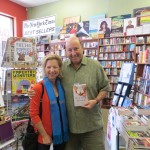 And from Northvale I crossed the Hudson again to visit the Village Bookstore in Pleasantville, NY. Owners Yvonne and Roy said they're reading and loving Louise Erdich's The Round House (Yvonne said it's her "favorite book I've read in the last several years") and James McBride's The Good Lord Bird (Roy). And I scooped up a copy of local author Joe Wallace's Diamond Ruby. I've known Joe for years on FB and Twitter but we've never met in person. I wandered Pleasantville for a while trying to find him, to no avail. But now that I know about the Village Bookstore, I'll be back.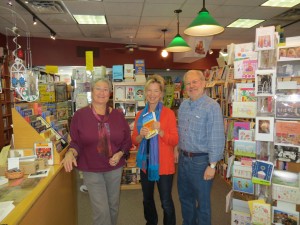 The Hudson River Valley beckons next. You don't have to be a writer to do an Indie Book Store Road Trip. It's big fun; I'd recommend it.
From Pennsylvania on to New Jersey. We started the day at Mendham Books, where  we talked books, books, and more books with Tom and Tori Williams and veteran bookseller Russell, but one of the best features of Mendham Books is Ellie.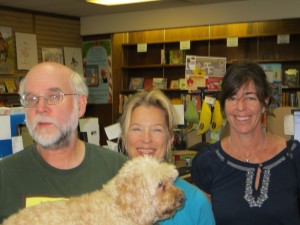 (You can only take so many author-in-a-bookstore photos before they start to get old, you know? Ellie is VERY photogenic.) Tom recently finished and loved Nicholas Baker's Traveling Sprinkler, and after he read the flap copy aloud to us, I added it to my TBR list. Tori recommends The Son, by Philipp Meyer (historical fiction alert!) and Russell suggested the classic Jude the Obscure by Thomas Hardy, one of my favorite authors. Russell also recommended Jojo Moyes' Me Before You, which I read and loved (Stacy's reading it now).
From Mendham we diverted from the plan, because WORD Jersey City isn't open yet. Instead, we followed Tori's advice to hit Watchung Booksellers in Montclair. If you were an author and you were going to invent the perfect cozy, picturesque bookshop for your novel, it would look exactly like Watchung.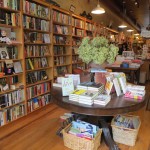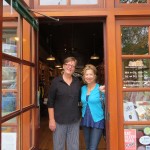 Owner Margot Sage-EL said she's reading Burial Rites by Hannah Kent, a brilliant work of historical fiction set in Iceland in 1829. We loved the author names stencilled on the walls, and the hardwood floors and the big bouquet of hydrangeas on a tale in the center of the shop and pretty much everything about Watchung.
From there we drove through the Lincoln Tunnel (Stacy drove; I'm claustrophobic) to visit Crawford Doyle on Madison Avenue, where my aunt, Dot McCleary has worked as a bookseller for many, many years. Dot has just started Alice McDermott's Someone. Dot is amazing. Smart, funny, energetic, well-read—we had a great time.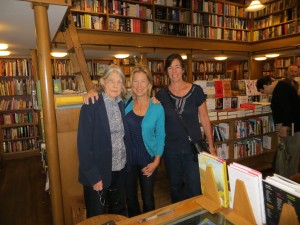 Fellow Crawford Doyle bookseller James suggested John Boyne's The Absolutist, and Abigail, another CD book person, just finished Barbara Tuchmann's The Guns of August (these are not lightweight readers).
The final stop of the day was Anderson's Book Shop in Larchmont, NY, where I fell in love with the Ingo Maurer light fixture, adorned with quotes from great authors, which Anderson's changes seasonally ("we're about to put up our fall quotes," bookseller Herb told me). Herb is reading The Hare With Amber Eyes. Fellow bookseller Donna loved The Girl You Left Behind. We're up to 10 bookstores, almost 450 miles, and lots of coffee, chocolate, and wine (in the evenings only, of course). Phew! It's been a very full three days.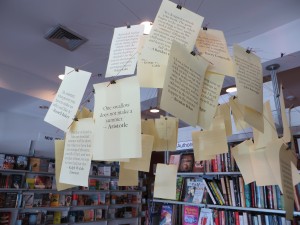 Indie Road Trip, Day Two: We spent the night in Valley Forge, PA, and then stopped in at the Towne Book Center & Cafe in Collegeville. Coolest things: The incredible painted mural in the Kids' Books section (which was painted in four days by an artist who used both hands to paint. I can't even brush my teeth with my non-dominant hand); and the booksellers, Jennifer and Leah.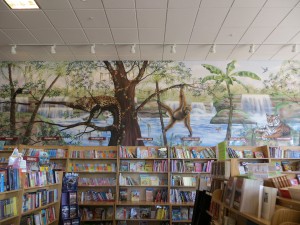 Jennifer, who writes children's books for fun, has been reading Fangirl, by Rainbow Rowell, and Neil Gaiman's Neverwhere. Jennifer made what may end up being my favorite quote of the trip: "If I ever get a tattoo, it's going to say 'NO SPOILERS.'"
Our next stop was The Doylestown Bookshop in one of the quaintest towns I've seen. We're talking old clapboard buildings, leafy streets, blooming flower boxes, beautiful stone churches—on a spectacular fall day. Alayna, the bookseller we talked to, is all about "Classics, to the core," and has recently read George Eliot's Middlemarch, Tolkien's The Return of the King, E.M. Forster's A Room with A View, and (so you know she's also open to what's current) Wool, by Hugh Howey.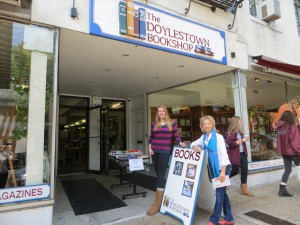 If you make it to Doylestown, don't miss Vintage, 63rd West State Street, where we had a blast trying on clothes, poring through costume jewelry, and talking to owner Debi Seltzer. Stacy found an incredible 1960s ensemble, right down to the purple suede boots.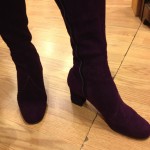 The final stop of the day was the oldest bookstore in the country, Moravian Book Shop in Bethlehem, established in 1745. We had tea and scones (hey, you gotta keep your strength up on a trip like this) and talked to Kaylin, bookseller extraordinaire (and a senior biology major at Moravian College), who has recently read and loved Cassandra Clare's The Mortal Instruments and The Bell Jar, by Sylvia Plath. I loved Kaylin's "Gandalf for President" button, although she admitted she's a "Harry Potter freak" and would probably vote Dumbledore over Gandalf if it ever came down to it.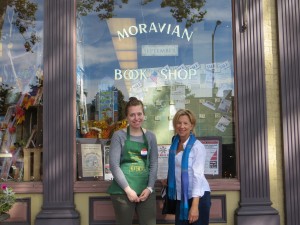 We're in New Jersey tonight, on to NYC tomorrow!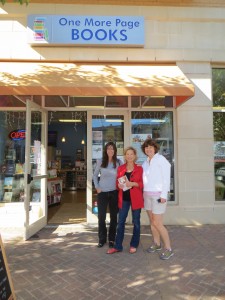 Today I set off with my friend Stacy on a six-day road trip to visit almost two dozen indie bookstores in seven states. Our first stop was my beloved local indie, One More Page, where owner Eileen McGervey and bookseller Lelia Nebeker greeted us with a bottle of sparkly Cava for the road (oh, don't fuss, we didn't pop the cork until we were done driving for the day).
Then we headed to the quaint town of Sykesville, Maryland, where Stacy repeatedly said, "Oh, my God! This place is adorable!" Sykesville is a delight. It's anchored on one end by a railroad station built in 1883 that now houses Baldwin Station restaurant, and Main Street is filled with a variety of shops and eateries, including the Salazon Chocolate Company, where I bought A LOT OF CHOCOLATE (dark chocolate with sea salt and crushed organic coffee was necessary, to help us stay alert for the drive). Main Street is also home to A Likely Story, a great indie with a friendly owner, Debbie Scheller. She's owned the store for eight years, and hosts a variety of in-store book clubs and other fun community events. She talked me into buying Liane Moriarty's  The Husband's Secret.I can't wait to go back to Sykesville. Stacy may move there.
Next stop: Baltimore's Ivy Book Shop, where we talked books for almost 45 minutes with owner Ann Berlin. What she's reading; A Fort of Nine Towers, by Qais Akbar Omar, a memoir she described as even more gripping than a Khaled Hosseini novel, and A Marker to Measure Drift, by Alexander Maksik, which she said is one of the best books she's read. Coming from the owner of a bookstore that carries 27,000 titles, that's high praise. After that, we went next door to Bonjour, a coffee shop in a purple house. On to Pennsylvania!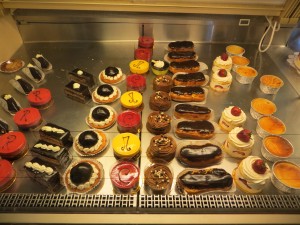 I have no desire to hang glide, sky-dive, bungee jump, or even ride a roller coaster. To be honest, I really, really love to read in bed. Don't get me wrong; I also like to travel, work out, hike, canoe, and dance. I'm just a bit of an introvert and not a risk-taker and don't even watch scary movies because, well, they're scary.
But this year I've pushed myself to do things that scare me. First, I hiked 50 miles of the Appalachian Trail with some friends. It involved carrying a 35-pound pack on my back and sleeping in a tent in the tick-filled, snake-ridden, bear-infested wilderness and walking uphill a lot. My shoulders ached so much I wasn't sure I could go on after Day 3. I found a fat tick on the back of my head. I sweated. My feet hurt. I had to huddle in a shelter while thunder and lightening and sheets of rain crashed down on the mountain ridge where we were camping. And I loved it.
Last week, I ran three legs in the Hood to Coast relay race in Oregon. I'm not a runner and I've never run a race in my life and I didn't start training until July. But suddenly it was race day and there I was, running three miles in the dark along a trail in the city, five miles at the edge of a paved road along the Nehalem River, another five miles uphill on a gravel path, down onto the beach in Seaside. My legs cramped up and I didn't sleep for 24 hours and 90% of the people running were decades younger than I am and my stomach hurt. But it was big fun. I loved that, too.
Now, I'm doing the scariest thing of all, publishing a novel about characters I've grown to love, who make bad choices and do things that hurt people they love. None of the characters are "me," but they're all parts of me. People will read it and judge them, and some people will hate them, and that's scary. It feels, to be honest, like standing naked in the town square (if towns still had squares). It's way outside my comfort zone.
But I'm doing it anyway. What's outside your comfort zone?
This week my mother leaves the house she's lived in for the past forty years and moves to Virginia. Tomorrow my second novel launches—a book I spent four years writing and rewriting and editing and rewriting again. In a few weeks, my eldest daughter leaves home for her first year of college. It feels like my life is on fast forward, all these major life events crammed into a short period of time, life sharp and intense as the taste of ripe summer raspberries.
I'm savoring every minute. A year ago at this time, life was also sharp and intense, with one hard thing after another. My father died suddenly. My daughter fell seriously ill. My father-in-law died. I came down with pneumonia and was too sick to attend his funeral. Every day I thought, "What next?"
So right now all I think is, "Thank you." I'm grateful my mother is healthy and so willing to start a new adventure at this stage in her life. I'm grateful my daughter, who is so lively and curious and smart and funny, has the opportunity to go on to college. I'm grateful that this book, which is so close to my heart, will be out there in the world. Let's face it, I'm OLD (okay, middle-aged) and never expected to have work I love this much at this stage of my life. At the risk of sounding all Sally-Field-gushing-at-the-Oscars-like, I'm grateful I have Ann Rittenberg , my agent, who believes in me, and a husband who works hard so I have the freedom to write, and terrific friends who read my lousy drafts and encourage me to keep writing and make me laugh.
I'll kick up my heels at my book launch party tomorrow night, hug many friends, dance, laugh a lot, drink wine, glow in my moment. But I haven't forgotten last summer, which makes these days all the sweeter.